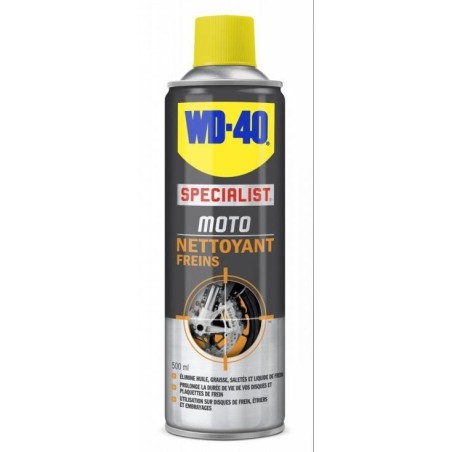  
Spray of brake cleanser WD-40 500 ml
Remove oil, grease, dirt and brake fluid.
Extends the lifetime of discs and pads.
Usage on brake discs, callipers and clutches.
Secure payments. CB 3D secure, Paypal
Shipping of products in stock within 2 working days
Return possible of products 14 days after delivery
High performance, solvent-based degreaser that dries quickly and has been designed to remove grease, dust and oil from brakes and other vehicle components.
Applications:
For all functional components of vehicle brake or clutch systems, including calipers, brake or clutch discs etc.
Instructions:
Place a drip tray under the work area.
Spray liberally on the surface to be treated and allow the contaminated liquid to drip into the bowl.
Brushing can aid removal if contamination is heavy or difficult to remove.
Remove excess product with a soft absorbent cloth.
Always test the operation of the brakes after cleaning.
Before using on plastics, make sure the product is suitable by testing it on a hidden area.
Do not use:
On decorative elements or on trim, where the product could affect the coverings.
On plastic or rubber components.
On hot surfaces.
Technical data:
Clear, colorless liquid with a characteristic organic odor.
Fluid and thin liquid, extremely volatile.
Extremely flammable, flash point below -20 ° C
A solution of hydro-treated light naphtha [petroleum] and isopropanol with a carbon dioxide propellant.
Ambient temperature only.
500 ml aerosol.
No customer reviews for the moment.
Customers who bought this product also bought: