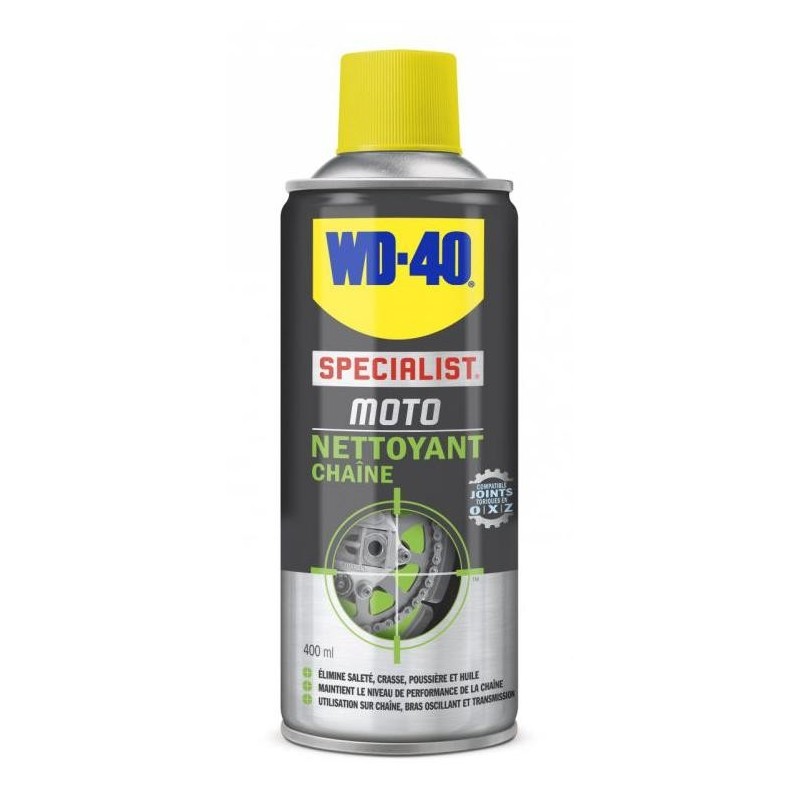  
Spray of chain cleanser WD-40 400 ml
Compatible gaskets O X Z
Remove dirt, grime, dust and oil
Use on chain, swingarm and transmission
Water dispersible degreaser designed to dissolve recent, oxidized or old fats and oils.
Suitable for subsequent rinsing with cold water.
TYPICAL APPLICATIONS:
On metal surfaces and most rigid thermosetting plastics, for all mechanical applications.
INSTRUCTIONS:
Spray the product liberally on the surface to be treated and leave to act for five minutes.
Collect contaminated or excess liquid in a bowl or similar container.
Brushing can aid removal if contamination is heavy or difficult to remove.
Rinse with water to remove contamination and dry with a rag or towel.
Always work in a well ventilated room, being careful to avoid inhaling the fumes.
DO NOT USE:
On decorative elements or on trim, where the product could affect the coverings.
On rubbers or flexible plastics, before having checked whether the product was suitable.
TECHNICAL DATA:
Fluid and transparent liquid with a characteristic organic odor.
Extremely flammable, flash point below -20 ° C
Solution of aliphatic hydrocarbon solvent, aliphatic alcohol, a nonionic surfactant and a hydrocarbon propellant.
400 ml aerosol.
Secure payments. CB 3D secure, Paypal
Shipping of products in stock within 2 working days
Return possible of products 14 days after delivery
No customer reviews for the moment.