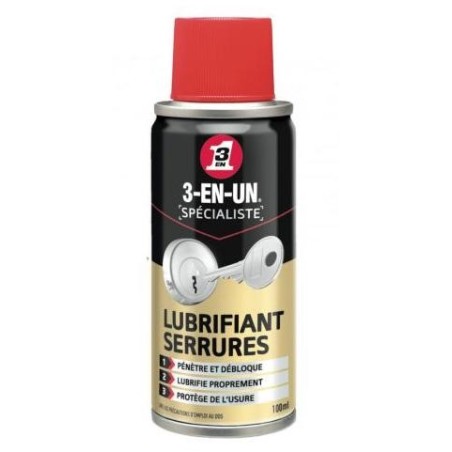  
Spray of lock lubricant WD-40 100 ml
Penetrates and releases
Clean lubricates
Protects against wear
Secure payments. CB 3D secure, Paypal
Shipping of products in stock within 2 working days
Return possible of products 14 days after delivery
WD-40 Specialist Lock Lubricant has been specially developed for the maintenance of all types of cylinder locks.
Using its formula without grease or silicone, it penetrates by capillary action into all the micro-mechanisms of the locks without clogging them.
In addition to its instantaneous release power, it ensures proper functioning of moving parts and provides lasting protection against rust, including in outdoor conditions.
Product Advantages:
Withstands temperatures ranging from -50 ° C to +150 ° C
The formula is reinforced with anti-corrosion agents to prolong the protection of metal parts.
Contains an active lubricant that prevents damage to the key bit.
Increases the possible number of cycles to close a key in a cylinder.
Compatible with all metals, all key cylinders but also with most plastics: HDPE, PP, PVC, PA ...
Formula tested on cylinder and approved by the Dekra quality testing laboratory in Germany.
Recommended for:
No customer reviews for the moment.