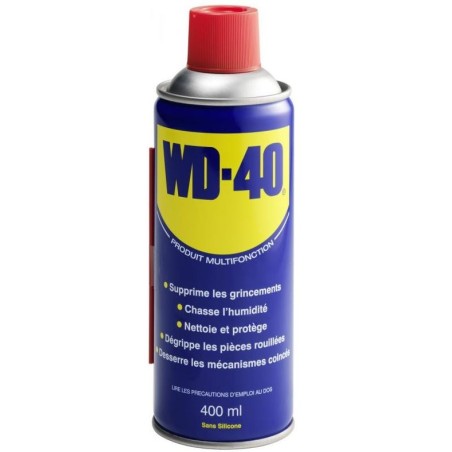  
Spray of multifunction WD-40 400 ml
Remove squeaks.
Eliminates humidity.
Cleans and protects.
Unjam rusted parts.
Silicone free.
Secure payments. CB 3D secure, Paypal
Shipping of products in stock within 2 working days
Return possible of products 14 days after delivery
The strong adhesion of the WD-40 Multifunctional to metal helps establish a perfect moisture barrier.
The film formed by WD-40 provides protection against water, humidity and their corrosive effects.
WD-40 protects against oxidation and all forms of corrosion, even under the most extreme conditions.
This action is durable and preventive.
On any non-porous surface WD-40 easily removes grease, tar, glue stains.
WD-40 penetrates the dirt, removing it without the deposit of corrosive agents.
WD-40 can be used on all metal and plastic surfaces.
WD-40 helps loosen stuck parts and unlock rusty, stuck or frozen mechanisms.
The extreme fluidity of WD-40 allows it to penetrate very quickly by capillary action into the smallest porosities of the metal and to penetrate rust and corrosion.
The strong adhesion of WD-40 to metal and its lubricating properties then ensure the constant functioning of the released parts.
One of the main components of WD-40 is an active and permanent lubricant.
WD-40 does not contain silicones, lanolin, or any other additive that attracts dust or dirt.
The parts and mechanisms are therefore lubricated properly.
Thus WD-40 quickly eliminates short circuits induced by humidity.
No customer reviews for the moment.