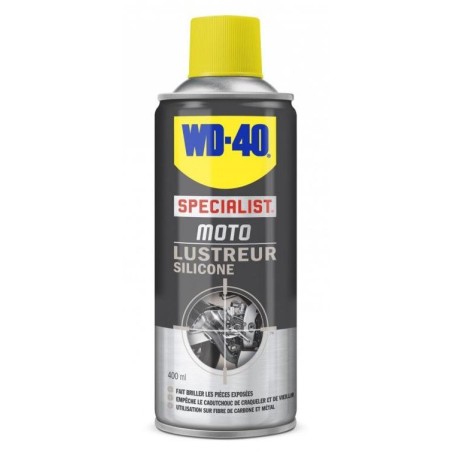  
Spray of silicone lustreur WD-40 400ml
Shines exhibits.
Prevent rubber cracking and aging.
Use on plastic, rubber and carbon fiber.
Secure payments. CB 3D secure, Paypal
Shipping of products in stock within 2 working days
Return possible of products 14 days after delivery
The Silicone Polisher completes the motorcycle maintenance phase to beautify exposed parts such as plastics, rubbers and carbon fiber in addition to Wax & Polish.
The Silicone Polish has been specially designed to give the motorcycle a great shine.
It works quickly, applies easily and does not require buffing.
Benefits & Features:
Brings a superb shine
Easy to use since it does not require polishing
Protects rubber from aging and cracking
Compatible with: plastic, rubber, carbon fiber
Caution:
Do not apply the Silicone Polish to the following parts: Tires, brake parts, saddles, hot parts, fabrics, control surfaces.
Usage tips:
Get a clean, soft cloth.
Shake the aerosol and apply to the clean surface to polish.
Then, wipe it with a rag to distribute the product evenly and avoid excess.
No customer reviews for the moment.